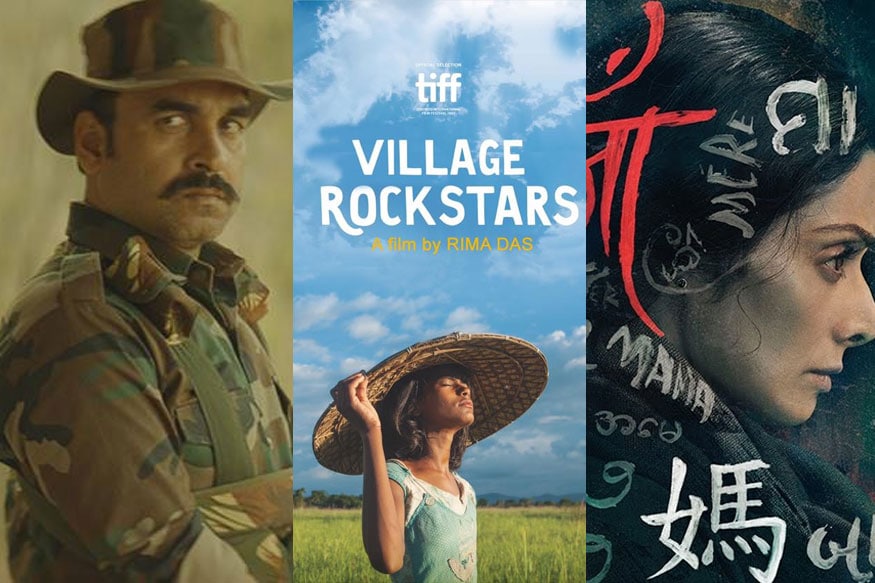 The winners of 65th National Film Awards.
The 65th National Film Awards have been announced by the jury headed by renowned filmmaker Shekhar Kapur on Friday. Sridevi has been posthumously awarded the Best Actress award for Mom while Vinod Khanna has been conferred with Dada Saheb Phalke Award. Amit V Masurkar's Newton has bagged the Best Hindi Film while Pankaj Tripathi has received a special mention for his performance. Ganesh Acharya has won the award for Best Choreography for the song Goli Tu Lath maar in 
Toilet Ek Prem Katha
. SS Rajamouli's Baahubali has won in two categories- Best Action Direction and Special Effects. Rima Das' Assamese film 
Village Rockstars
 has won the Best Feature Film.
The 10-membered panel, headed by Shekhar Kapur, comprised the likes of Kannada director P Sheshadri, screenwriter Imtiaz Hussain, actor Gautami Tadimalla and lyricist Mehboob among others. The Awards are administered by the government's Directorate of Film Festivals.
Here's the complete list of winners.
BEST GUJARATI FILM: Dhh Producer: Amruta Parande Director: Manish Saini
BEST TELUGU FILM: Ghazi Producer: Prasad V. Potluri (Picture House Media Limited) (PVP Cinema) Director: Sankalp
BEST TAMIL FILM: To Let Producer: Prema Chezhian Director: Chezhiyan
BEST ASSAMESE FILM: Ishu Producer: Children's Film Society, India Director : Utpal Borpujari
BEST BENGALI FILM: Mayurakshi Producer: Firdausul Hasan Director : Atanu Ghosh
BEST HINDI FILM: Newton Producer: Amit V Masurkar Director : Manish Mundra
BEST KANNADA FILM: Hebbettu Ramakka Producer: Putta Raju .S.A Director: N.R Nanjunde Gowda
BEST MALAYALAM FILM: Thondimuthalum Driksakshiyum Producer: Sandip Senan Director: Dileesh Pothan
BEST MARATHI FILM: Kachcha Limbu Producer: Mandarr Bhaskar Devasthali Director: Prasad Oak
BEST ODIYA FILM: Hello Arsi Producer: Ajaya Routray Director: Sambit Mohanty
BEST TULU FILM: Paddayi Producer: Nithyananda Pai Director: Abhaya Simha
BEST JASARI FILM:SINJAR Producer: Shibu G Suseelan Director: Pampally
BEST LADAKHI FILM: Walking With The Wind Producer: Mahesh Mohan Director: Praveen Morchhale
BEST ACTION DIRECTION AWARD: Abbas Ali Moghul (Baahubali-The Conclusion)
BEST CHOREOGRAPHY: SONG: "Gori Tu Latth Maar", Ganesh Acharya, Toilet Ek Prem Katha
BEST SPECIAL EFFECTS- BAAHUBALI- The Conclusion
BEST ACTION DIRECTION AWARD: Abbas Ali Moghul (Baahubali-The Conclusion)
SPECIAL JURY AWARD: Nagarkirtan Producer: Sani Ghose Ray
Director: Sani Ghose Ray
BEST MUSIC DIRECTION a)Songs – AR RAHMAN- Kaatru Veliyidai
b)Background Music- A. R Rahman (MOM)
BEST MAKE-UP ARTIST: Ram Rajjak (Nagarkirtan)
BEST PRODUCTION DESIGN: Santhosh Raman (Take Off)
BEST SCREENPLAY i) Screenplay Writer (Original): Sajeev Pazhoor (Thondimuthalum Driksakshiyum)
ii) Screenplay Writer (Adapted): JAYARAJ (Bhayanakam)
iii) Dialogues : Sambit Mohanty (Hello Arsi)
BEST LYRICS: J M Prahalad Song: Muthuratna
BEST BACKGROUND SCORE- MOM, MANI RATNAM
BEST CINEMATOGRAPHY: Bhayanakam Cameraman: Nikhil S Praveen
BEST FEMALE PLAYBACK SINGER: Kaatru Veliyidai SONG: Sasha Sublime (VAAN)
BEST SUPPORTING ACTOR: Fahad Fazil (Thondimuthalum Driksakshiyum)
BEST SUPPORTING ACTRESS: Divya Dutta, Irada
BEST CHILD ARTIST: Bhanita Das (Village Rockstars)
BEST ACTOR: Riddhi Sen (NAGARKIRTAN)
BEST ACTRESS: Sridevi (MOM)
BEST DIRECTION: Director- Jayaraj (BHAYANAKAM)
BEST CHILDREN'S FILM: MHORKYA Producer: Kalyan Rajmogli Padal
Director : Amar Bharat Deokar
BEST FILM ON ENVIRONMENT CONSERVATION/ PRESERVATION: IRADA Producer: IRADA ENTERTAINMENT LLP D
irector: APARNAA SINGH
BEST FILM ON SOCIAL ISSUES: AALORUKKAM Producer: JOLLY LONAPPAN
Director : V C ABHILASH
NARGIS DUTT AWARD FOR BEST FEATURE FILM ON NATIONAL INTEGRATION: Dhappa Producer: Sumatilal Popatlal Shah
Director: Nipun Dharmadhikari
BEST POPULAR FILM PROVIDING WHOLESOME ENTERTAINMENT Baahubali – The Conclusion Producer: Prasad Devineni
Director: @ssrajamouli
INDIRA GANDHI AWARD FOR BEST DEBUT FILM OF A DIRECTOR: Sinjar Producer: SHIBU G SUSEELAN
Director : PAMPALLY
BEST MALE PLAYBACK SINGER: K.J Yesudas (Viswasapoorvam Mansoor) Song: Poy Maranja Kalam
BEST FEATURE FILM: Village Rockstars Producer: Rima Das
Director: Rima Das
DADASAHEB PHALKE AWARD CONFERRED TO VETERAN ACTOR VINOD KHANNA
Best Book on Cinema: Matmagi Manipur-The first Manipuri Feature Film
Author: Bobby Wahengbam. Publisher: Angomningthou Preservation & Documentation
Best Film Critic: Mr. Giridhar Jha
Best Writing on Cinema (Special Mention): Mr. Sunil Mishra
Non-Feature Films
SPECIAL MENTION:
(a) Rebirth- Director: Jayaraj
(b) Cake Story- Director: Rukshana Tabassum
(c) Afternoon- Director: Swapnil Vasant Kapure
BEST NARRATION/ VOICE OVER: The Lion of Laddak
Narrator: Francois Castellino
BEST MUSIC: Shored of Liberty
Music Director: Ramesh Narayanan
BEST EDITING: Mrityubhoj The Death Feast
Editor: Sanjiv Monga & Tenzin Kunchok
Best On location Sound Recordist: Samarth Mahajan (The Unreserved)
BEST AUDIOGRAPHY: Pavasacha Nibandha
Audiographer: Avinash Sonawane
(a) Appu Prabhakar (Eye Test)
(b) Arnold Fernandes (Dawn)
BEST DIRECTION: Nagraj Manjule (Pavasacha Nibandha)
BEST FILM ON FAMILY VALUES: Happy Birthday
Producer FTII
Director: MEDHPRANAV BABASAHEB POWAR
BEST SHORT FICTION FILM: Mayat
Producer: Dr Suyash Shinde
Director: Dr Suyash Shinde
SPECIAL JURY AWARD:
(a) A Very Old Man with Enormous Wings
Producer: Films Division
Director: Prateek Vats
(b) Monday
Producer: FTII
Director: Arun K
BEST ANIMATION FILM:
(a) The Fish Curry
Producer: MUNISH TEWARI
Director: ABHISHEK VERMA
Animator: ABHISHEK VERMA
(b) The Basket
Producer: Nilima Eriyat
Director: Suresh Eriyat
Animator: Studio EEKSAURUS
BEST INVESTIGATIVE FILM: 1984, When the sun didn't rise
Producer: Teenaa Kaur
Director: Teenaa Kaur
BEST EXPLORATION/ADVENTURE FILM (TO INCLUDE SPORTS): Ladakh Chale Richawala
Producer: Films Division
Director: Indrani Chakrabarti
BEST EDUCATIONAL FILM: The Little Girl We Were and the Women We Are Producer: RAHI Foundation
Director: Vaishali Sood
BEST FILM ON SOCIAL ISSUES
(a) I am Bonnie
Producer: Films Division
Director: Satarupa Santra
(b) Veil Done
Director: JUHI BHATT
Producer: RAJIV MEHROTRA
BEST ENVIRONMENT FILM INCLUDING AGRICULTURE: The Pangti Story Producer: RAJIV MEHROTRA
Director: SESINO YHOSHU
BEST PROMOTIONAL FILM (to cover tourism, exports, crafts, industry etc)-Poetry on Fabric : Chendari Nama
Producer: Sanjay Gupta for Pro Art India
Director: Rajendra Janglay
BEST ARTS /CULTURAL FILM: Girija
Producer: Madhu Chandra, Sudha Datta
Director: Debapriya Adhikary, Samanwaya Sarkar
BEST BIOGRAPHICAL/ HISTORICAL RECONSTRUCTION:
(a) Naachi se Baanchi
Producer: Films Division
Director: Biju Toppo
(b) Sword of Liberty
Producer: R C Suresh
Director: Shiny Jacob Benjamin
SPECIAL JURY AWARD:
(a) A Very Old Man with Enormous Wings
Producer: Films Division
Director: Prateek Vats
(b) Monday
Producer: @FTIIOfficial
Director: Arun K
BEST ANTHROPOLOGICAL/ETHNOGRAPHIC FILM:
(a) Name, Place, Animal, Thing
Producer: Nithin R
Director: Nithin R
(b) Slave Genesis
Producer: Aneez K M
Director: Aneez K M
BEST DEBUT FILM OF A DIRECTOR: Water Baby
Producer: Varun Shah
Director: Pia Shah